AT The fair!
Several times over the past few years customers have written and told us their afghans won a ribbon at their local county or state fairs. We decided to spotlight these amazing crocheters and their afghans!.
Tamara Pendergrass won a red ribbon at the 2019 Sarpy County Fair for this stunning afghan done in mini corner to corner.
This beauty won a blue ribbon for Stephanie Soliz - Great job!
won 3rd place at local fair in Pennsylvania - congratulations Renae Kness Johnston!
Ann Jamieson won 3rd place in her local Agriculture Show!
by Sue Lemal - Blue Ribbon winner! 2019
by Sue Lemal earns a 3rd place white ribbon - 2019
Whale of a Time Baby Afghan
by Sue Lemal wins a 2nd place Red Ribbon in 2019 Fair
April Davies Vannini won 1st place with her Victorian Dress Afghan at the Medicine Hat Exhibition & Stampede in Alberta, Canada ~ Congratulations April!
Louise Atkinson won the grand prize at her local fair and now is donating the Maltese Afghan to her local Fire Department!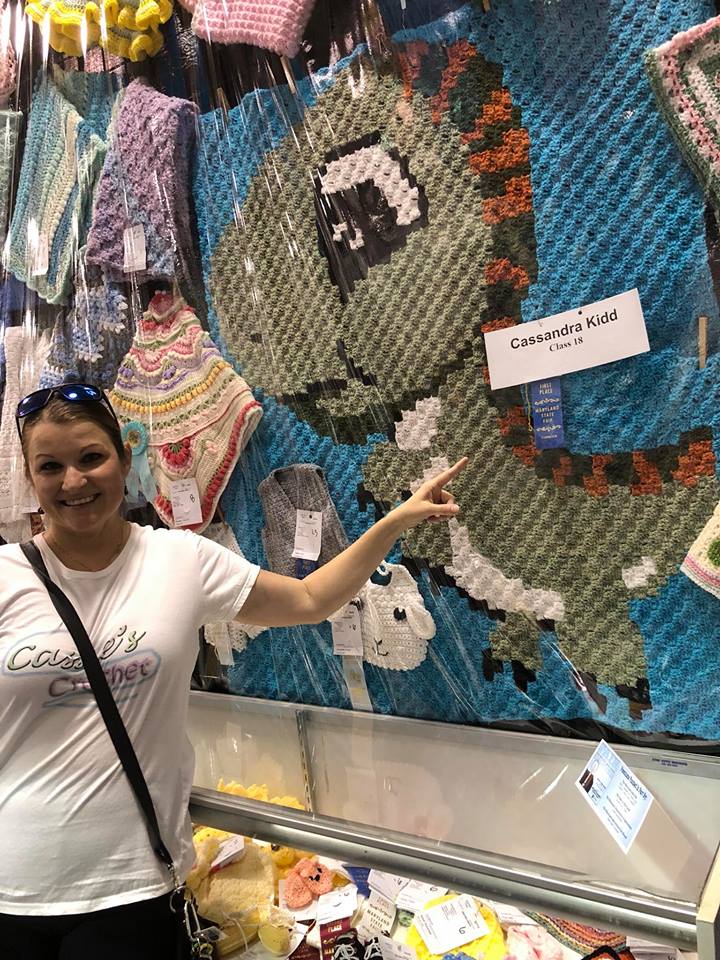 Cassie won 1st place at her State Fair for this cute T Rex children's afghan
Marji Reineke Franklin entered the Lighthouse afghan in 2017 and got Best in Show! Congratulations Marji!
Sue Lemal's afghan won Best In Show at the 2018 Cuyahoga County Fair!
to the moon
Sue Lemal enter the "I Love You to the Moon and Back" afghan and won 1st place this week July 2018. Congratulations Sue! And in case you're wondering about that fabulous background yarn that looks like a starry night....that is yarn from Hobby Lobby "I Love This Yarn"
Maltese Cross afghan
Wendy Clark entered the Maltese Cross afghan in the Red Willow County Fair and received a purple ribbon! Congratulations Wendy!